EyeBrow Vent™ – Multi-Purpose Ventilation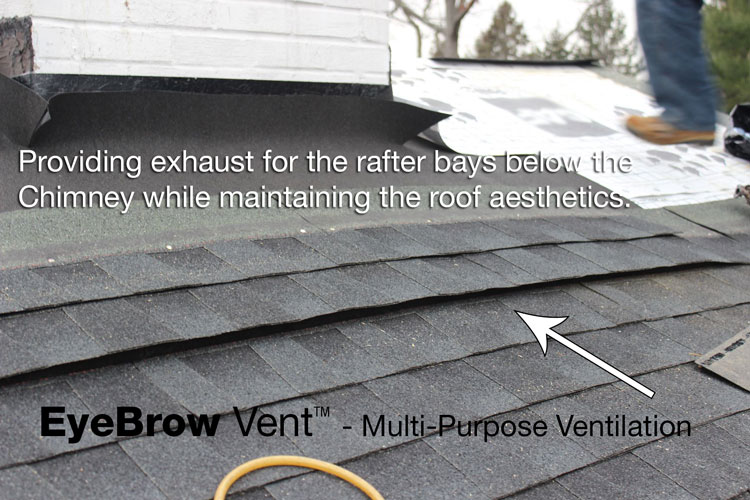 Whether it is an intake vent, exhaust vent, a valley vent or skylight vent, a bathroom vent, a make-up air vent or a microwave vent, or a range hood vent, a chimney vent or attic vent, this EyeBrow™ vent will meet the needs as your "go to" air flow vent! Remember, only air can flow through this vent and should not be used as exhaust for a dryer.
---
Important points about this EyeBrow™ vent:
A net free area of over 21 NFVA per vent.
Will accommodate up to a 6" diameter duct.Whatever size duct is used, the terminating piece to the roof vent is called a duct collar (purchased separately) with the collar size matching the size of duct (2", 3", 4", 5" or 6").
Uses such as skylights, chimneys and valleys require a 1" to 1.5" slit cut in the roof deck at 5.5" to 7" up from the lift edge (3/4") of the vent, 36" wide centered at the vent placement.
The product lift edge opening area is 27 sq. inches per DCI EyeBrow vent.
Nail the EyeBrow™ vent 2" in from all edges spaced at about 10"-11" apart and then install an underlayment over the vent and 12" above the vent lapped and then shingled over. Best to match the existing shingle courses for a better look.
---
Installation
It's a very quick installation and very low profile. Works on roofs 3/12 and above. The only requirement is that it installs a minimum of 3 feet up from the eaves edge of the roof. This way it is away from winter build-up of eave edge debris and snow and ice. The device is 57" long tapering down at 10.5" from either end. It is 10.5" wide and has a weather guard protection on the lifted 3/4″ edge of the device, tapering down to 1/8" on the upslope side and both lifted ends taper down.
If using the DCI Eyebrow vent as a step vent near the valleys for intake air, keep away 24" parallel with shingle courses from the valley center point to start the vent. Use one vent per two rafter bays (16" or 24" spacing).
Click the image to view full size direction sheet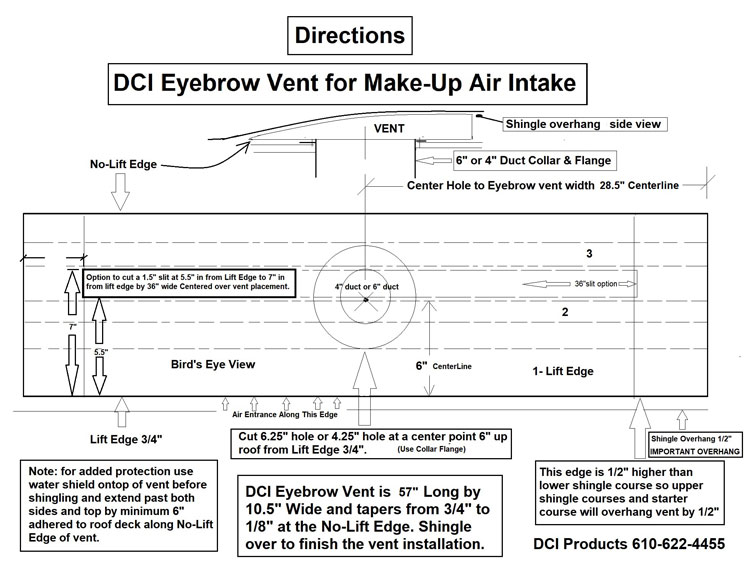 History behind the Mult-Purpose DCI EyeBrow™ Vent
The new DCI EyeBrow™ vent begins many years ago when DCI was approached regarding specialty vents for critical areas of the roof, and other specialty vents regarding electric powered vents on the market, bath and kitchen vents, etc. Our engineering team went to work designing, developing and manufacturing prototypes of a single vent that would accomplish the venting needs these special areas on the roof would require, all using one vent product.
Questions about the EyeBrow™ Vent? Ask DCI