Note: Calculations are based on 1 square foot of Net Free Area for every 150 square feet of residential attic floor space.
Numbers are based on average roof pitch between 4/12 and 10/12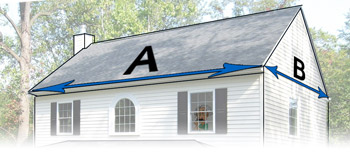 *Calculations are based on a standard "A" frame roof with an average roof pitch.
*These are minimum requirements for proper venting, actual vents should extend to the ends of the roof when possible with a maximum rafter length of twenty-four(24) feet per side.
* For commercial use, please call DCI Products with detailed information. Commercial applications include rafters that have a length greater than 24 feet per side.