16" & 24" INSULATION BAFFLES FOR INDUSTRY
PROFESSIONALS
SmartBaffle is available in 16" and 24" stock sizes. These insulation baffles are strong, durable, easy to work with and can be used in new construction or retrofit during renovations.
SmartBaffle 16 out-of-the-box size is 18.5"W X 37.5"L X 4mm (thick) and is constructed of rigid, corrugated plastic with two bending routes each route at 2.25" in from the long edge. After installed, the SmartBaffle is 14″ wide with 2″ flanges. These insulation baffles are strong enough to support spray foam expanding insulation creating the required air chute most shingle manufacturers require for shingle warranties.
Each piece can be very easily cut in half using a standard utility knife. The SmartBaffle can be cut in half for double coverage at the eaves area to guard against insulation blockage. Each cut piece would be 18.5" in length.
The SmartBaffle can be installed with a bent down starter to seal the soffit insulation as a weather barrier by simply scoring the two side flanges and bending down at the appropriate distance. What's more is that the SmartBaffle can be installed from the roof or from the inside room or attic. As you can see the SmartBaffle is very versatile and cost effective.
---
---
Expert advice from around the web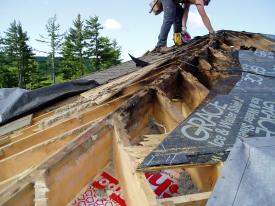 Green Building Advisor is a great source for contractors and homeowners alike to find information about remodeling, designing and overall improving a home. We are always pleased to see when a product that we offer is recommended in their articles.
Here is one that is well worth reading.
---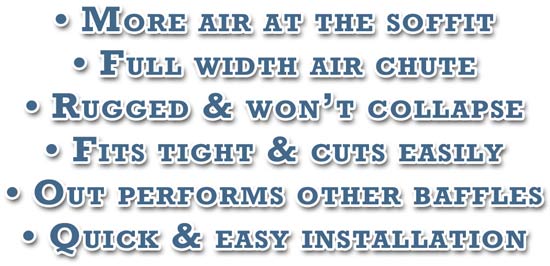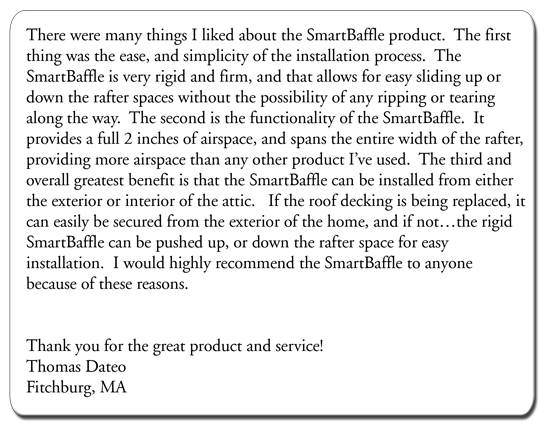 SmartBaffle installation using a nailing flange