"These days, the best available vent baffle is probably the SmartBaffle, which is made from polyethylene."~GreenBuildingAdvisor.com
SMARTBAFFLE
THE BEST INSULATION BAFFLE AVAILABLE


SmartBaffle is constructed of non-collapsing material with lifetime durability. Ease of installation by the contractor is achieved by the design, engineering and technology inherent in the baffle product.
Introducing StarterBaffle
A 2N1 baffle to fit almost ALL rafter bays!
The StarterBaffle can be installed in bays that are 16″ or 24″ on center. A simple roation of the StarterBaffle will align with the rafters and the 2″ flanges will keep the air channel free of debris. The StarterBaffle at the eaves area will guard against insulation blockage.
WELCOME TO DCI PRODUCTS


Committing ourselves to the design, manufacture and marketing efforts required to accomplish our goals makes our success story a major part of your success story. Whether you are a homeowner, contractor, architect, engineer or a building supply yard, our innovative product solutions will help you reach your required goals. Goals that should include: energy efficiency, cost effectiveness, environmental friendliness, warranty compliance, and ease of installation. Our in house building experts are ready to help you solve the issues you may come across. Feel free to discuss any questions that you may have regarding our product solutions, whether it is installation questions, usage questions, cost comparisons or structural engineering questions. Or you may have your building professional call us directly.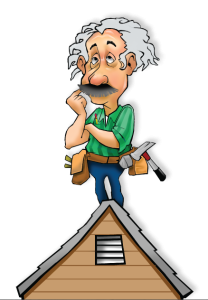 DCI Products partners with IPS Roofing Products
In 2017, DCI Products partnered with IPS Roofing Products to create a greater national distribution of our SmartVent, SmartRidge and ValleyVent products. You can now find these products as part of the IPS Roofing Products line. With a broader distribution area this has made our top selling products more readily available throughout the United States. Another benefit of our partnership is that DCI Products represents the IPS Roofing Products line in the Pennsylvania, Delaware and New Jersey.
Need more information, samples or training?
CALL US NOW :
800-622-4455
SmartVent
SmartVent is a tapered, under shingle plastic product designed for installation along the soffit edge of the roof or the facing edge of dormer rakes and goes virtually unnoticed.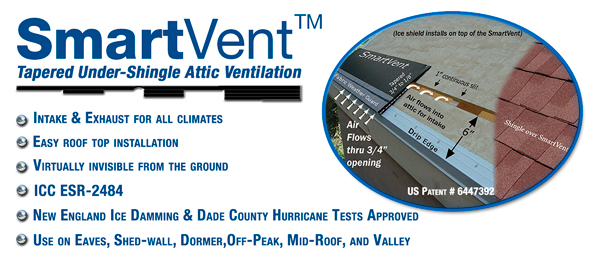 SmartRidge I
SmartRidge I's unique design results in perfectly clean roof lines instead of the sloppy shingle lift most flexible, rolled ridge vents leave behind. DCI Products has a full line of nail gunnable ridgevents to solve all your ventilation needs.
SmartRidge II
SmartRidge II is the 1st rigid, corrugated ridge vent with an exterior weather guard that is literally taking the ridge vent market by storm! This patented external weather guard only allows air to flow through the vent.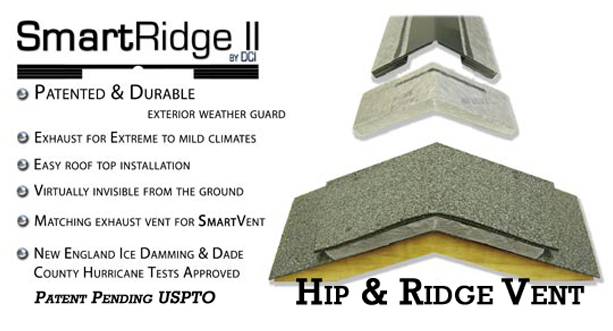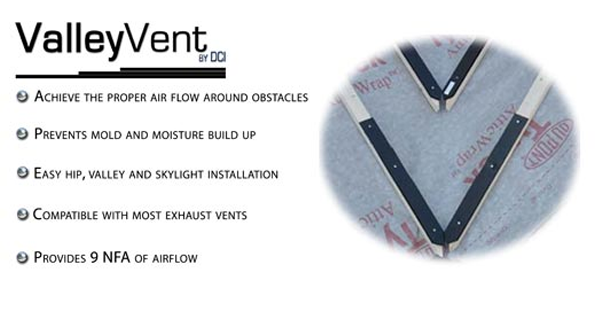 ValleyVent
ValleyVent is an under-plywood, top-of-rafter vent easily installed during the construction of an addition or a new home. The ValleyVent provides adequate ventilation in the spaces to either side of the vent placement.
OUR GOALS


Since 1990, DCI Products has been manufacturing and developing 'cutting' edge technology for the roofing industry.
Our goals are simple:

To Design, Create & Innovate new building products and techniques that solve the issues of today's changing construction environment.

Keeping our building products with Green Building Standards in mind, and

Satisfying the ease of job site installation while not compromising the integrity of our building products.

TESTIMONIALS


"We started to use the SmartVent and SmartRidge II because we can use both products together as a matching intake and exhaust system on every house! This assures the customer they are getting the proper ventilation."
"The biggest advantage of SmartVent is that we don't have to destroy the existing soffit to get proper airflow. It is also easier to install SmartVent on the roof, than to deal with cutting the fascia board and re-pitching the gutter to use a vented drip edge."